CATL 302Ah LiFePO4 Prismatic Battery Cells
$624.00
Note: The price for 4pcs. For pricing on larger quantities and optimizations, please contact us.
1.High Quality:100%Grade A, high-quality CATL 302Ah LiFePO4 Prismatic Batteries with original CATL QR code.
2.Long Lifetime: Each lifepo4 battery cell is rated 302Ah capacity and with high consistency. batteries, these batteries offer nearly double the run time.
3.New Inside Structure: We start with new technology, utilizing an internal lamination structure, keeping batteries from bulging when it is full of power, and no leaking problem as well. Ensuring your safety and protection for daily use.
4.For Different Applications: CATL 302Ah LiFePO4 Prismatic Battery Cells suit for the Electric bicycle/motorcycle/scooter energy storage, solar power system, UPS electric appliances power supply, golf trolley/carts power tools.
5.Full Parts Included: One CATL 302Ah LiFePO4 Cell will come with one set busbar, bolt, and washer for free. Easy to enjoy green energy.
Description
| | |
| --- | --- |
| Item | Performance |
| Brand | CATL |
| Battery Model | LEP71H3L7 |
| Cell Grade | Brand New Grade A Cell |
| Chemistry | Lithium Iron Phosphate (LiFePO4 or LFP) |
| Nominal Capacity | 302Ah |
| Nominal Voltage | 3.2V |
| Operational Voltage | 2.5V-3.65V |
| AC Impedance Resistance | ≤0.18±0.05mΩ |
| Weight | 5.51±0.3kg |
| Dimensions (mm) | 207.2*173.93*71.65±0.5mm |
| Cycle Life | ≥4000 cycles |
| Terminal | M6 Laser Welding Screw Hole |
| Residual Capacity Loss | Per month ≤3.5% |
| Charging Temperature | 0℃~65℃ |
| Storage Temperature | -35℃~65℃ |
Product Feature
Highly automated production equipment to ensure battery consistency.
Square aluminum shell structure, high-precision explosion-proof valve design, good safety performance.
Low internal resistance, high discharge rate, and stable discharge platform.
Green environment, ISO14000 approval, products meet GB and UN criteria, and ROHS compliant.
Long cycle life.
Product Application And Connection
You can use it for the electric vehicle,Electric bikes,Scooters,Boats, Submarines, Golf carts, Communications, Energy storage, Lntelligent network, Etc.
DIY Suggestion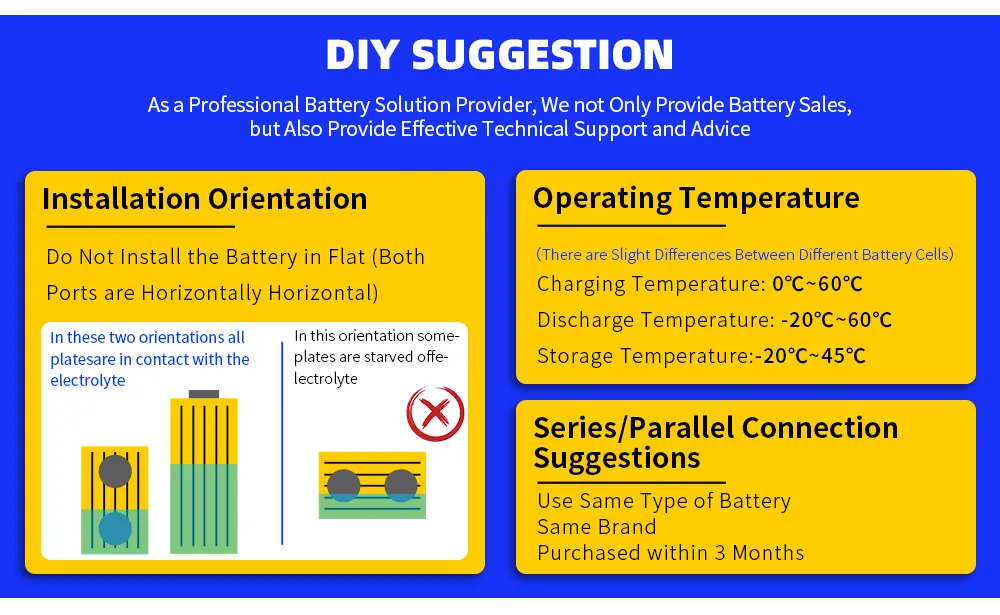 What's In Your Box?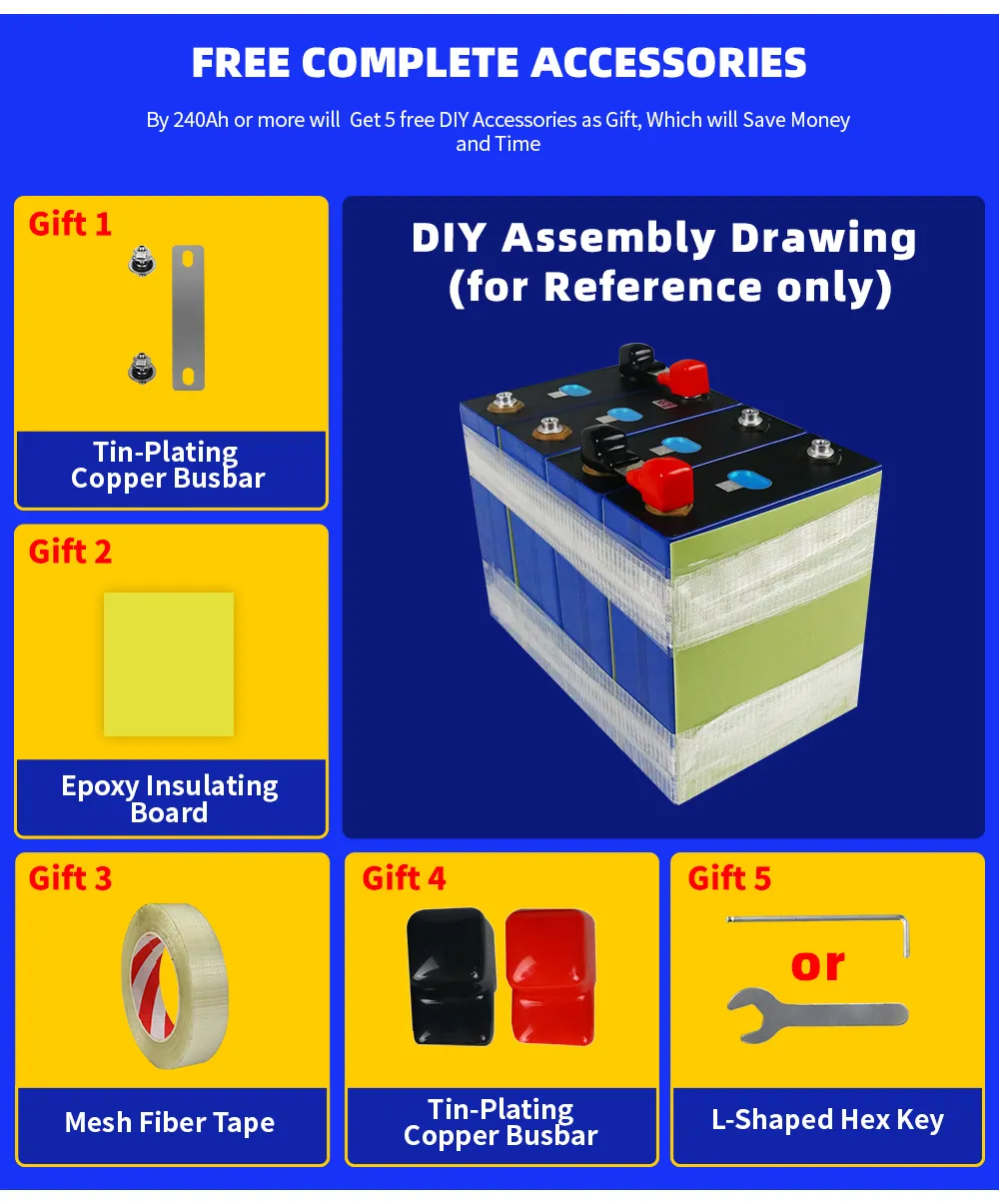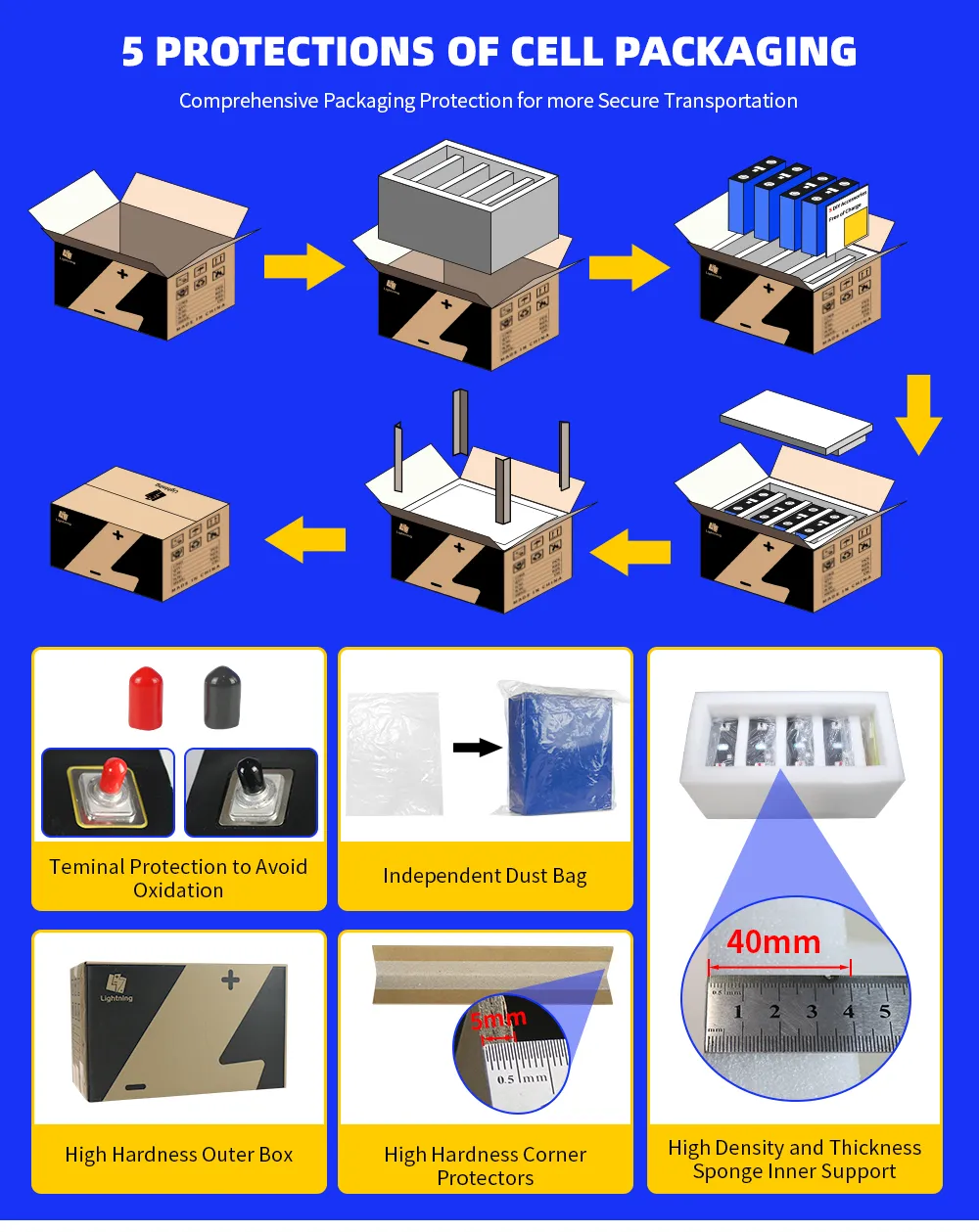 NOTE!
1. One Cell will come with one set busbar, bolt, and washer for free. (e.g. 4 Cells will come with 4 pcs(busbars + bolts + washers) .
2. Each cell shall be used under the strict monitor, control, and protection by the BMS.
3. Before the first use, always charge the cells to full voltage.
4. We will match (capacity, voltage, resistance) all cells before delivery.
5. The battery is suitable for DIY lovers with experience.
FAQs
Q:I would like to buy 8 PCs LiFePO4, how long is the warranty it has?
A:Within 2 years from the date of purchase, if our products have quality problems and cannot work normally., we can provide refund services. If the consumer fails to install, use and maintain the product correctly in accordance with the requirements of the instruction manual, which causes serious quality problems in the product, it is not covered by the warranty.
Q:Are you guarantee these battery cells are A grade and what manufacturer it is?
A:Our A-grade cells are made by CATL, and we will reconfirm their consistency before shipment.
Q:Can these be hooked in series for a 48v system?
A:Our battery has good consistency. If 16 cells are connected in series, it can become a 48 system.
Q:Are the studs welded in?
If You are asking about the connecting studs I don't think they are welded on this type of battery as the type of construction is completely different than a flooded led acid battery terminal connection.
Q:I have been trying to use similar batteries for home solar in 16 battery series. How do I do this without overcharging some of them?
A:16 of these batteries in series roughly 54 volts at full charge. To charge them You need a 48-volt solar air which will put out about 60 volts hooked to a charge controller that will shut off at about 54 volts.
Advantages Of Lightning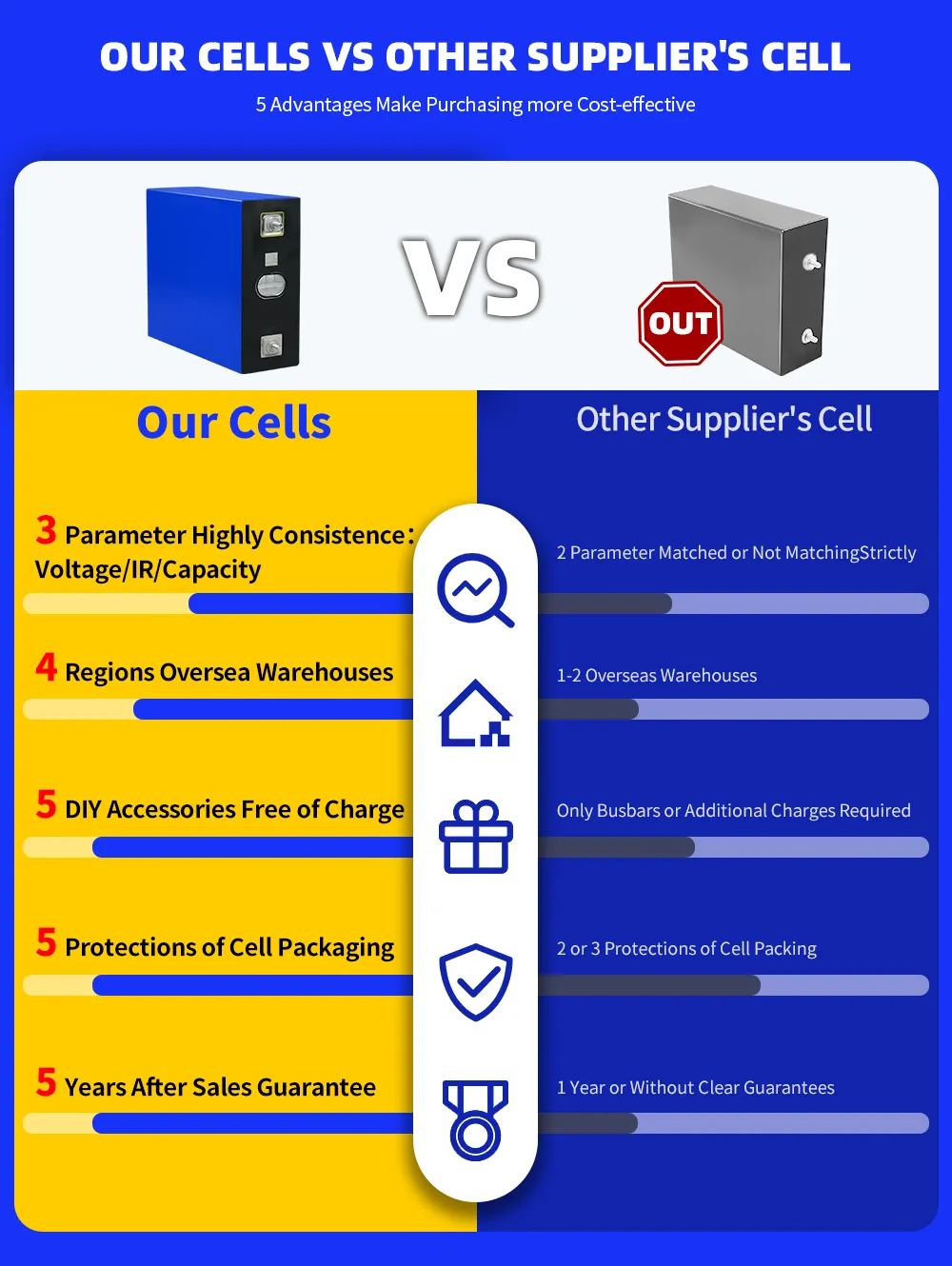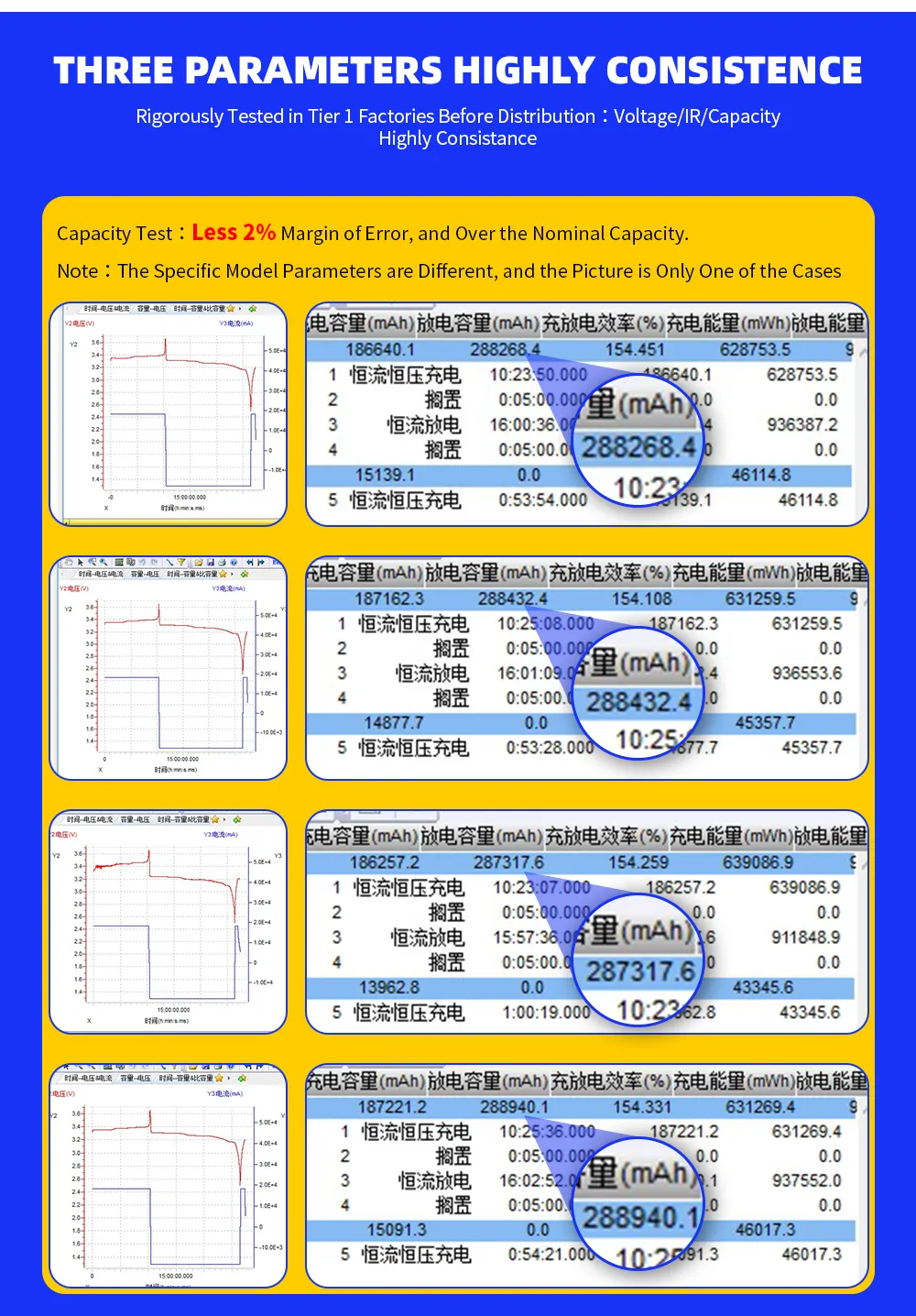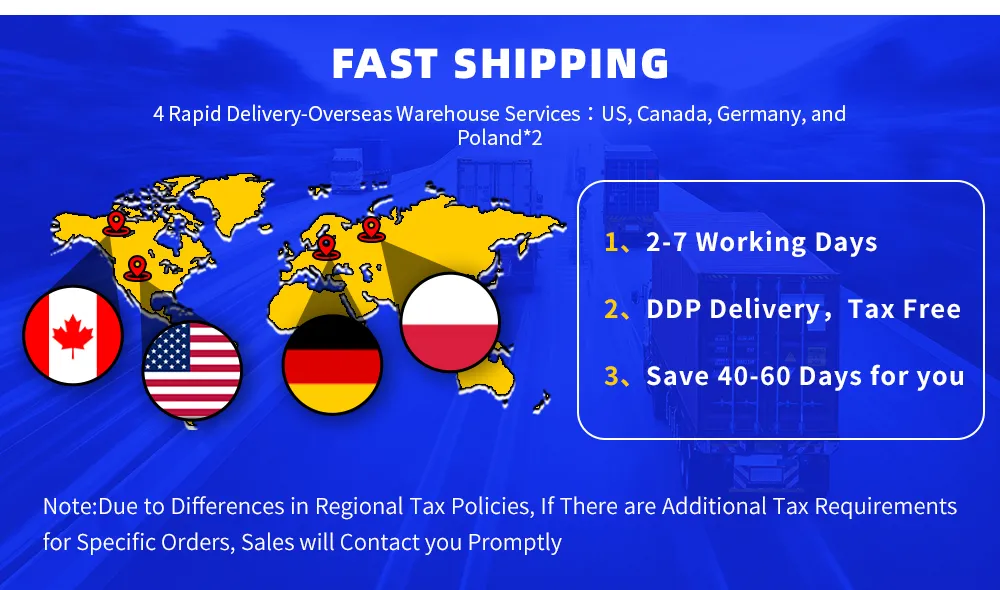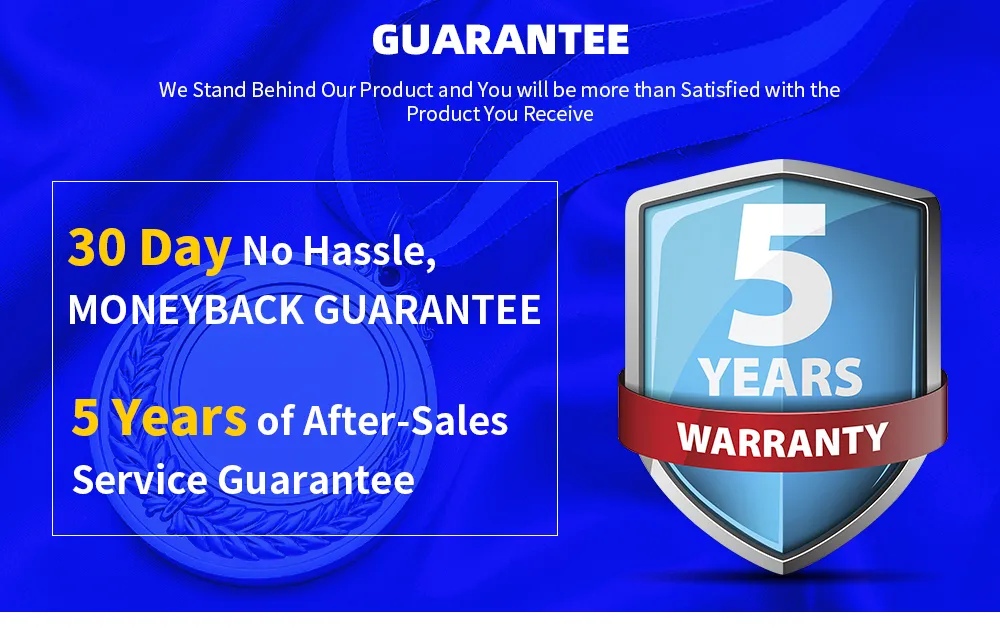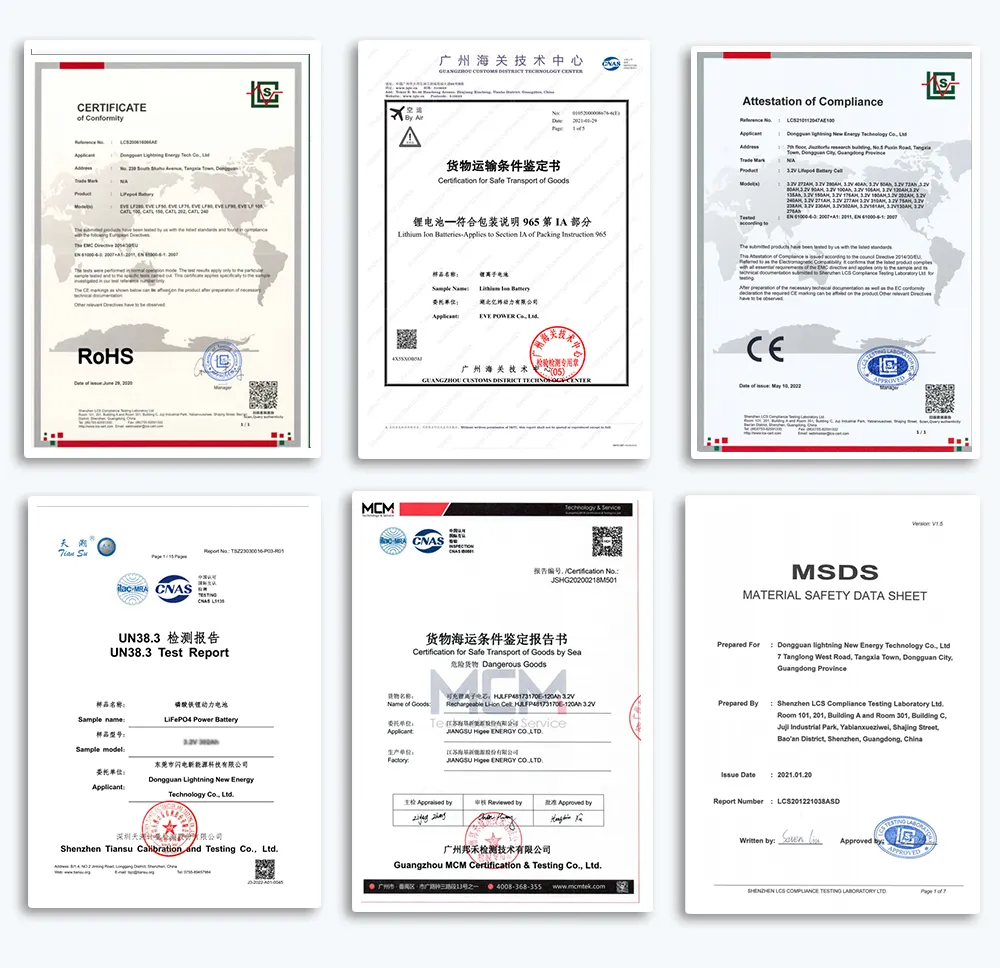 About Lightning