EU STOCK EnjoyCool LINK Portable Outdoor Air Conditioner, 700W 2380 BTU Cooling Fan, Low Noise, LED Control Panel – Yellow
$699.00
🚨 Use Code: tonilive, Get $200 OFF Offer!
NOTICE: The Product Can Ship from EU Warehouse Within 3-7 days
【❄Powerful Heart】Supercharged cooling: Micro rotary compressor produces 2380 BTU of refrigeration capacity and 140m3/H air circulation, cooling any space to 30-40°F within 10 minutes.
【❄Arbitrary Switching】 Full control: Adjust cooling levels (strong/cool), and fan speed (3 levels) and activate sleep mode anytime via LCD panel or remote.
【❄Charging Anywhere】Multiple power options: Runs on 100-240V AC, portable generator, 24V solar energy or vehicle charging. The add-on battery provides extended cooling.
【❄Portable & Quiet 】Ultra-light and whisper quiet: Weighing only 6.5kg for easy portability, the Link operates at just 43db for disturbance-free cooling.
【❄Easy Installation】Plug and play: Simply connect the included hoses and pipes to get started. No additional components or complicated installation is needed.
Still Worried About The Extreme Heat In Hot Summer?
EnjoyCool Portable Air Conditioner With Excellent Performance, Ultra-Compact, And Portable Size Help You To High-Efficiency Cooling In Anytime And Anyplace.
With the advanced high-quality Panasonic miniature rotary compressor, the cooling capacity of the Link air conditioner can reach 2380 BTU/h, and the circulating air volume is 140m³/H. It can quickly cool to 30-40°F within 10 minutes. The sustainable charging design helps you save money and reduce your carbon footprint with eco-friendly power options. Plus, our 5-8 hour longer runtime ensures you can stay cool all day or all night without needing to recharge.
You can easily adjust the AC temperature and fan speed through the soft-touch control panel. Our innovative Bionic Manta Ray Gill Radiator Vent design mimics the natural ventilation system of a manta ray, providing efficient and effective cooling. The ergonomic grip design and 6.3KG Lightweight ensure easy to carry, while the large area air-conditioning outlet distributes cool air evenly and fastly throughout the space. Whether you're in a small room, in the RV, or camping, our portable air conditioner is the perfect way to beat the heat and stay cool and comfortable all summer long.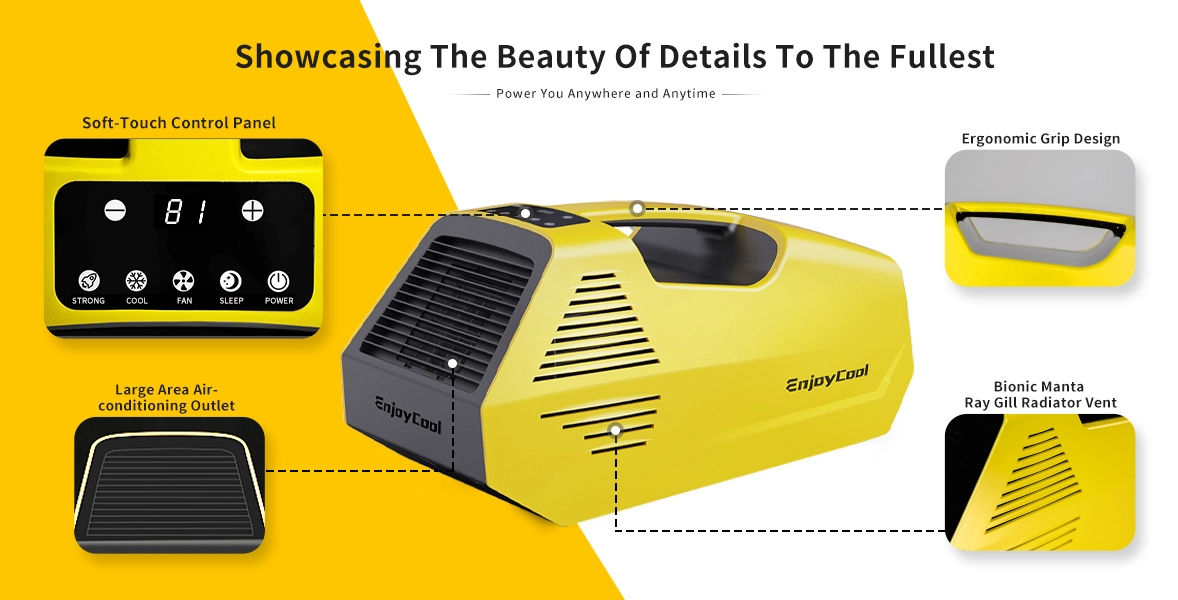 With extraordinary portability, EnjoyCool Link portable AC was born for various outdoor events,  traveling, car camping, glamping, RVs, outdoor parties, vacation homes, and even for pets, any scenario you can imagine.
Technical Specification
Link Air Conditioner

General
Brand: EnjoyCool
Type: Air Conditioner
Model: Link
Color: Yellow
Specification
Rated Voltage: 100-240V AC
Rated Frequency: 50-60Hz
Rated Power: 240W
Maximum Input Power: 330W
Noise: 43db(Minimum)
Application Area: 2-4 square meters
Refrigerant/Amount: R134a/14.1oz
Cooling Capacity: Max 700w
Cooling Capacity: 2380BTU
Air Circulation: 140m³/h
Weight & Size
Product Weight: 6.5kg
Package Weight: 10.2kg
Product Size(L x W x H): 528*248*258mm
Package Size(L x W x H): 607*330*378mm
Package Contents
1 x Link Air Conditioner
3 x Extension Pipe
1 x Drain Pipe
1 x Extension Pipe Connector
1 x Extension Connector
1 x Adapter
1 x Power Cord
1 x Remote Control
1 x User Manual
Add-On Battery

Model
EnjoyCool Link Add-On Battery
Battery Type
SAMSUNG 21700
Battery Chemistry
Lithium-ion
Capacity
1022Wh
Recharge Time
5 Hours
DC Output
USB*2
Type C*1
FAQs
What will be in the package of EnjoyCool Link I received?

EnjoyCool Link Basic package includes the following:
3 x Extension Pipe
1 x Drain Pipe
1 x Extension Pipe Connector
1 x Extension Connector
1 x Adapter
1 x Power Cord
1 x Remote Control
1 x User Manual

*If you selected a Plus or Plus Extra option, you will receive one or two more Add On Batteries (depending on the package you purchase).
Does the Link have built-in battery?


Link does not have a built-in battery, and it can be directly used by plugging into the home or portable power stastion in general use. If you want to use the Link more freely, you can purchase an additional battery for use with it.
In what space does Link have the best cooling effect?


Link can be used in many types of spaces, such as home, tent, BBQ and field, but the effect is best within 2-4 square meters.
Which charging methods does Link support?


EnjoyCool Link supports a variety of charging methods, whether it is the wall and power station socket power at home, the car charger of the truck, the solar panel and the portable power station can provide the Link with battery life.

So you don't have to worry about charging!
How do I use the Link with the Add-On Battery?


Just align the plug of the Add-On Battery with the connectorat the bottom of the Link, and use the adapter connect the Link and the Add-On Battery to complete the installation.
When the Link is working, how does it dissipate heat?


EnjoyCool Link is designed with dual hoses. One tube sucks in fresh air, the air passes through the condenser to become cold air, and the heat is discharged out of the machine through the other tube.

The hose and Link are separate when the Link package is received. Before use you need to perform a few simple installation steps. Once installed, place the two hoses outside a window, door or rent and enjoy the cooling.
Does the Link need water or ice to cool?


No need at all. The Link is like a small air conditioner, as long as the hose is placed outside where it can get fresh air and connected to a power sorce, it will work.
Can the length of the exhaust duct that comes with the Link be extended?


We do not recommend to lengthen the hose, it will lead to poor heat dissipation of the Link, resulting in machine failure, or even dangerous.
Videos
See these tech experts how to say about EnjoyCool Link!
EnjoyCool Link Installtion
About EnjoyCool

Founded in 2021, EnjoyCool is a high-tech enterprise focusing on portable off-grid air conditioners.
Adhering to the concept of "focusing on the life and dedicated to the products", we continue to innovate and make breakthroughs in the field of portable off-grid air conditioners. We are committed to building the world's first brand of portable off-grid air conditioners.
In the process of shaping the product image, Enjoycool adheres to the product idea of keeping pace with the times. In response to different market demands and social needs, In Enjoycool, we believe that quality, powerful functions, competitive advantages, responsibility, and serving society are the most essential five principles for an enterprise. That's how we can keep bringing powerful and robust products.
Strive to be the first and be the only one. Under the vision of a century, Enjoycool strives to reach the pinnacle, which is unparalleled.