CATL 173Ah LiFePO4 Prismatic Battery Cells
$384.00
Note: The price for 4pcs. For pricing on larger quantities and optimizations, please contact us.
100%Brand New Grade A Cell: CATL 173Ah Prismatic LiFePO4 Cells with Multi-Protect Safety System, ensures your safety and the protection for the lithium iron phosphate battery uses.
2.CONSISTENCY: We know the importance of maintaining the consistency of each battery, So we will test all the lithium battery Voltage and Internal resistance Voltage. And balance battery to ensure that the internal resistance, voltage and capacity of battery are completely matched and balanced before delivery. This process is very necessary.Don't worry about leakage
3.Long Life & Light Weigh:CATL 173Ah Prismatic LiFePO4 Batteries have a lifespan of up to ten years and can provide more than 6,000 cycles, while lead-acid batteries have a lifespan of only 3 years and can only provide 200-500 cycles. There is no acid in the battery and you can safely install it anywhere.The performance of lithium iron phosphate battery is much higher than that of lead acid battery at the same capacity.
4.Capacity Expansion: CATL 173Ah Prismatic LiFePO4 Battery Cells can be connected in parallel and in series to obtain larger capacity and voltage. According to your needs, DIY can have different capacities and voltages in different places,The installation is simple. One Cell will come with one set busbar, bolt, and washer for free.
5.Wide Application: CATL 173Ah Prismatic LiFePO4 Battery Cells can be used in the following fields: home energy storage systems, Solar and wind energy storage systems,UPS backup, lighting, digital/CCTV cameras, portable TVs, outdoor photography monitoring devices, DIY speakers, 12V routers, air pumps, fish finder, tow Fishing motors, outdoor stalls, lawn mowers, etc., you can choose different capacities according to your needs.
Description
Specification
| | |
| --- | --- |
| Item | Performance |
| Brand | CATL |
| Battery Model | 173Ah |
| Cell Grade | Brand New Grade A Cell |
| Chemistry | Lithium Iron Phosphate (LiFePO4 or LFP) |
| Nominal Capacity | 173Ah |
| Nominal Voltage | 3.2V |
| Operational Voltage | 2.5V-3.65V |
| AC Impedance Resistance | ≤0.28±0.05mΩ |
| Weight | 3.2±0.15kg |
| Dimensions (mm) | 174*207*40±0.5mm |
| Cycle Life | ≥6000 cycles |
| Residual Capacity Loss | Per month ≤3.0% |
| Charging Temperature | 0℃~45℃ |
| Storage Temperature | -20℃~60℃ |
Product Feature
Highly automated production equipment to ensure battery consistency.
Square aluminum shell structure, high-precision explosion-proof valve design, good safety performance.
Low internal resistance, high discharge rate, and stable discharge platform.
Green environment, ISO14000 approval, products meet GB and UN criteria, and ROHS compliant.
Long cycle life.
Product Application And Connection
Electric vehicle, electric bikes, scooters, boats, submarines, golf carts, communications, energy storage, Intelligent network, etc.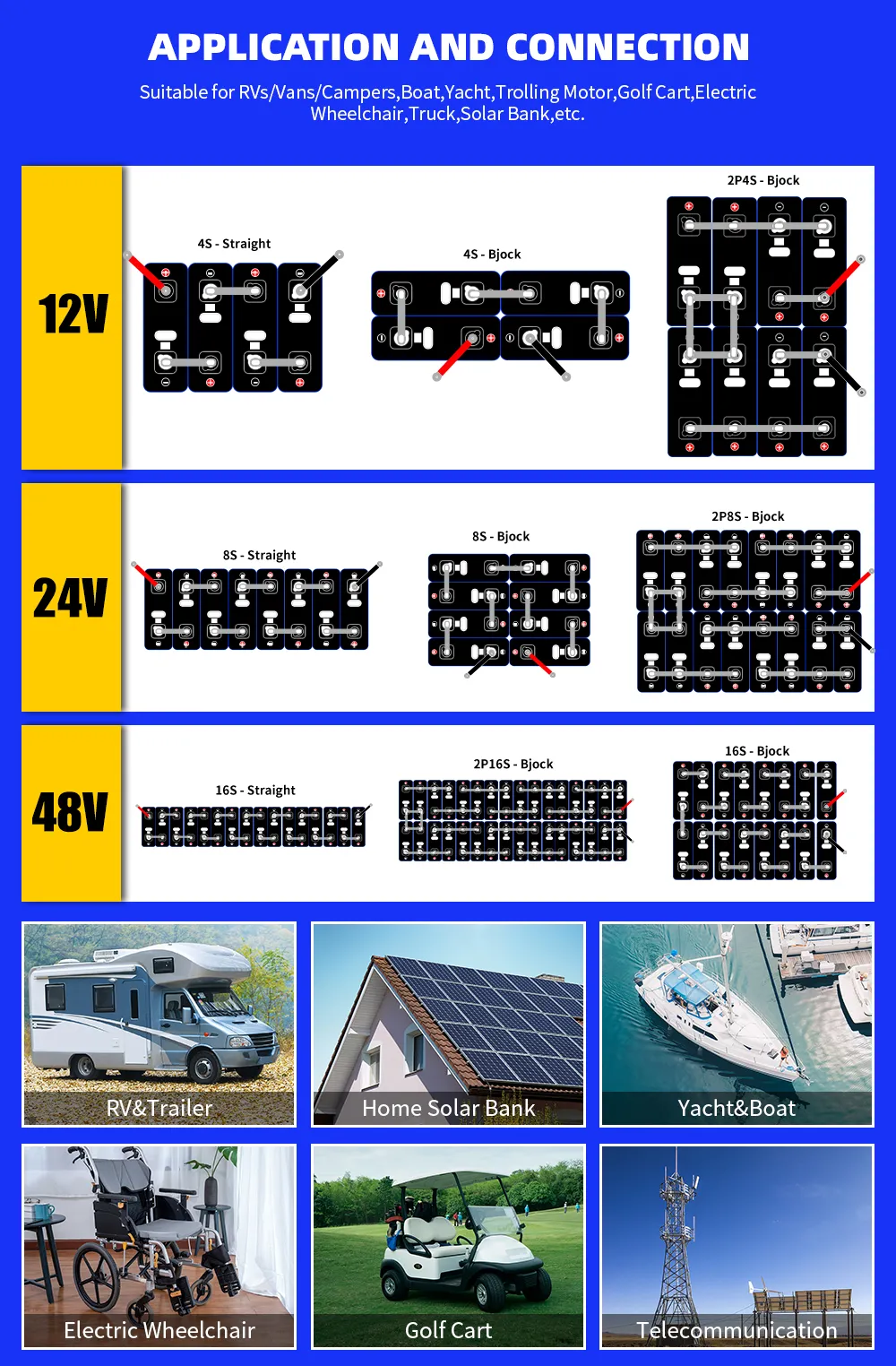 DIY Suggestion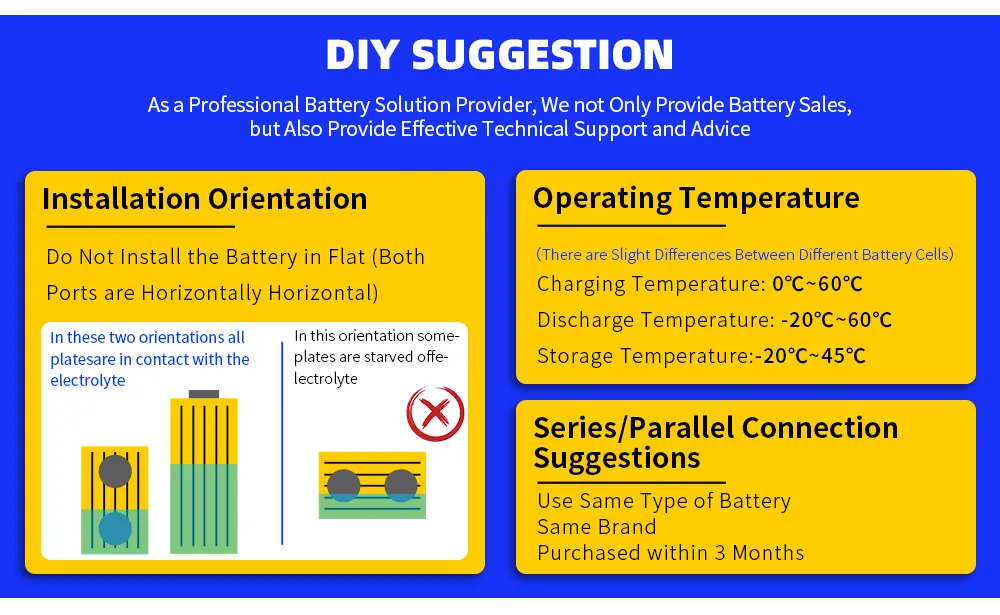 What's In Your Box?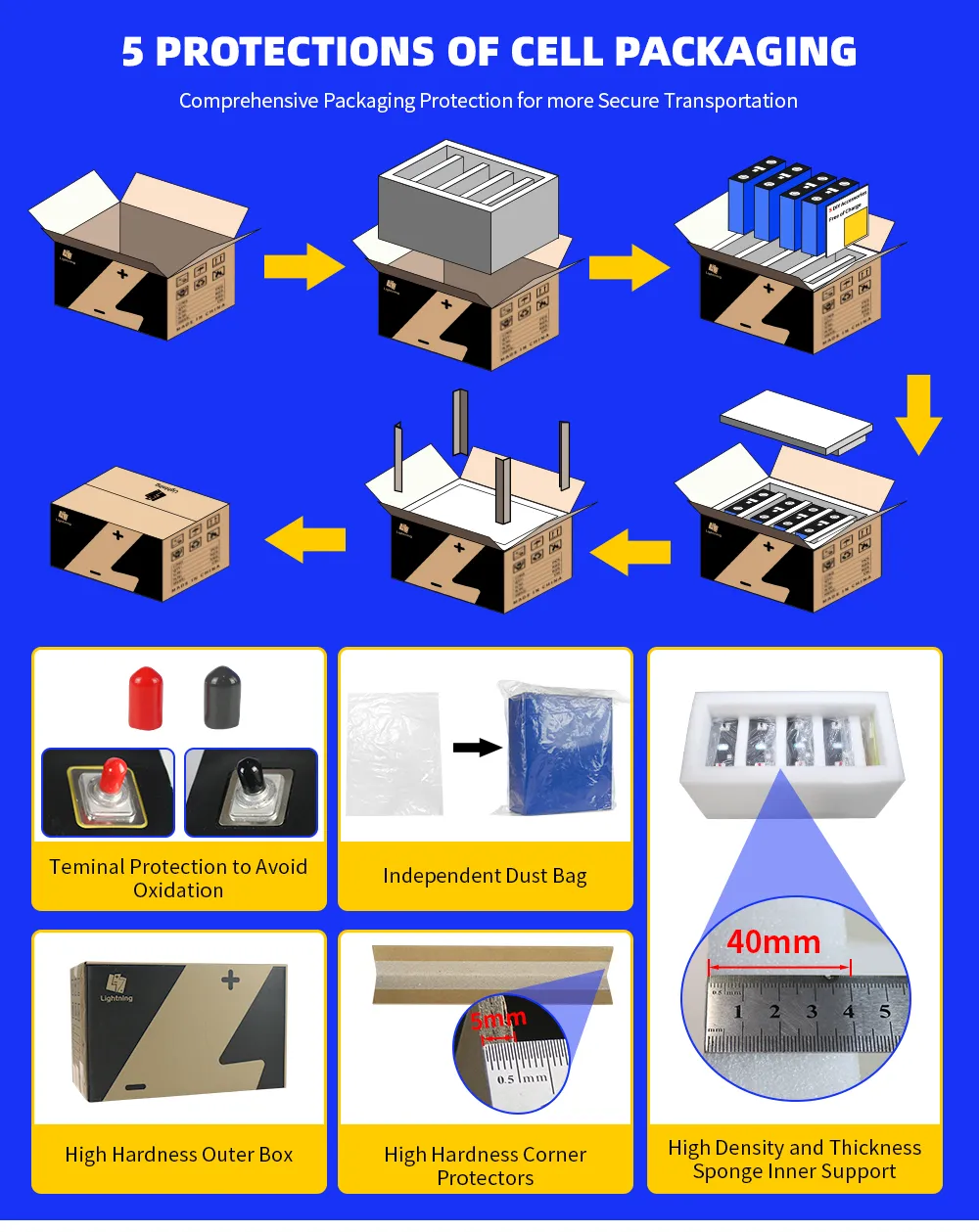 NOTE!
1. One Cell will come with one set busbar, bolt, and washer for free. (e.g. 4 Cells will come with 4 pcs(busbars + bolts + washers) .
2. Each cell shall be used under the strict monitor, control, and protection by the BMS.
3. Before the first use, always charge the cells to full voltage.
4. We will match (capacity, voltage, resistance) all cells before delivery.
5. The battery is suitable for DIY lovers with experience.
Advantages Of Lightning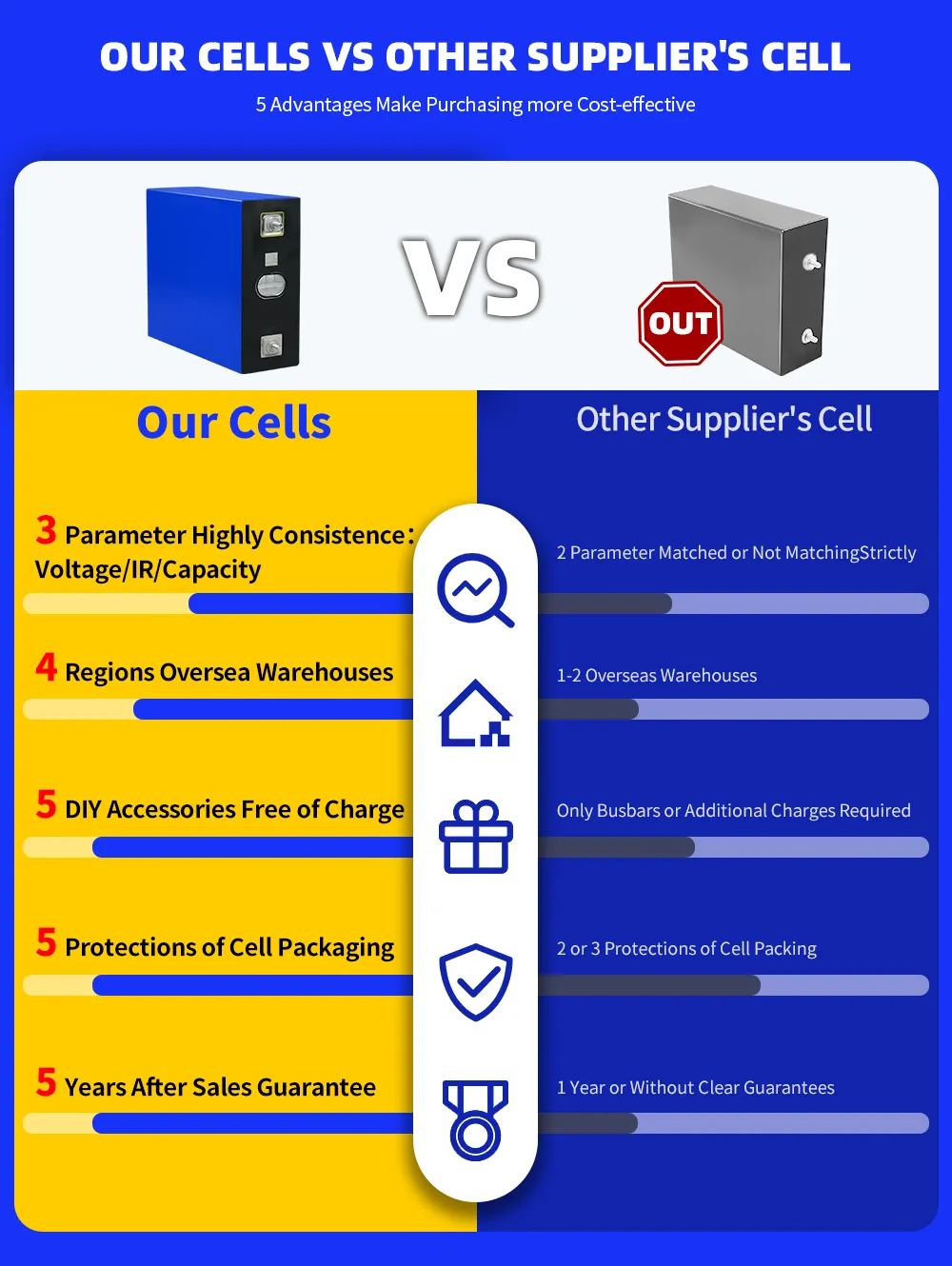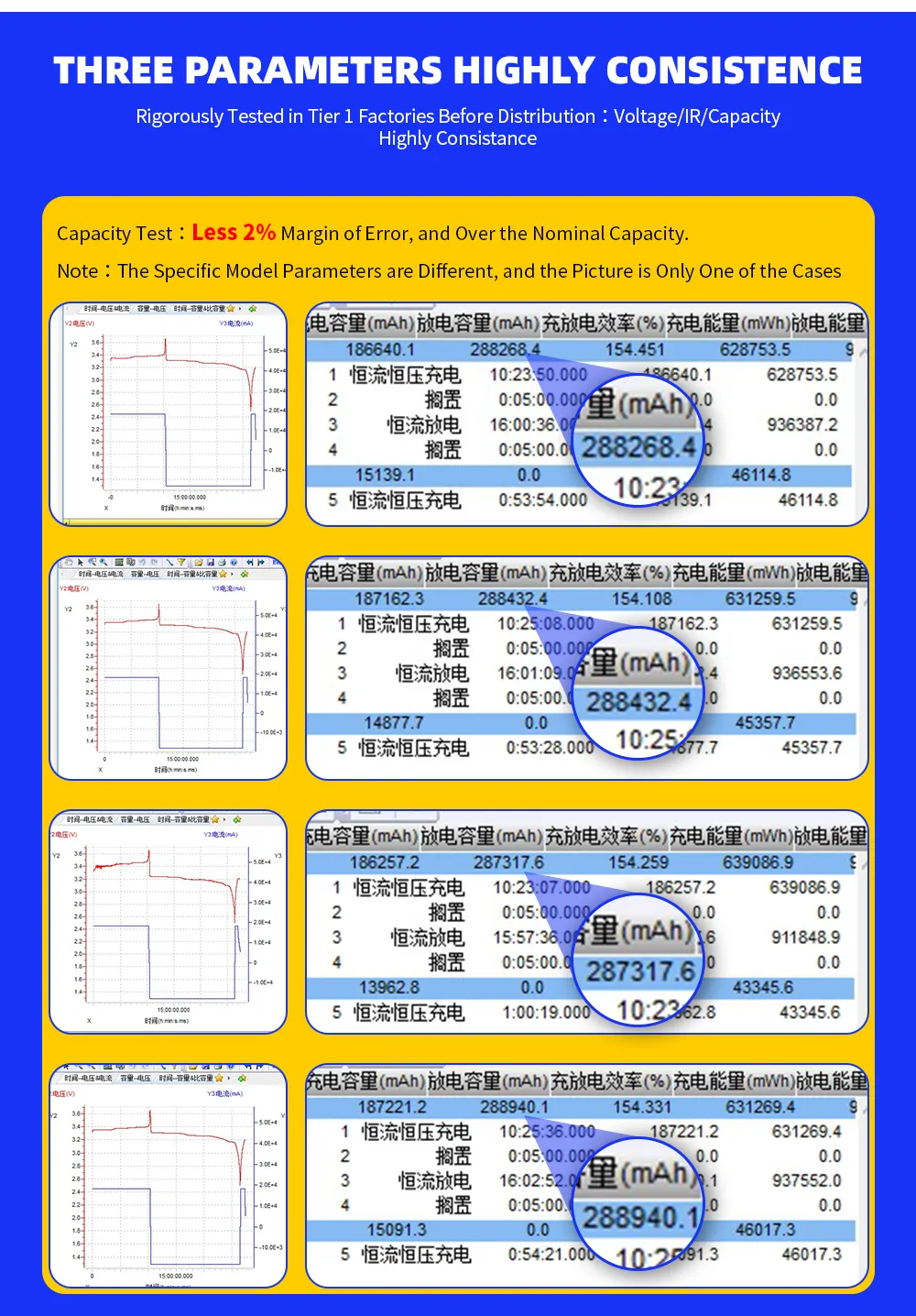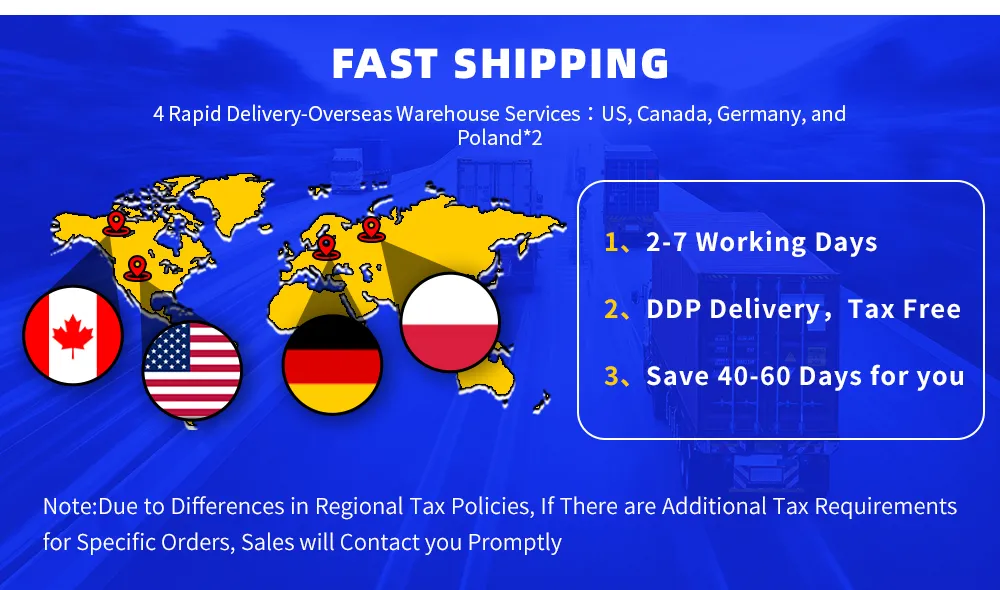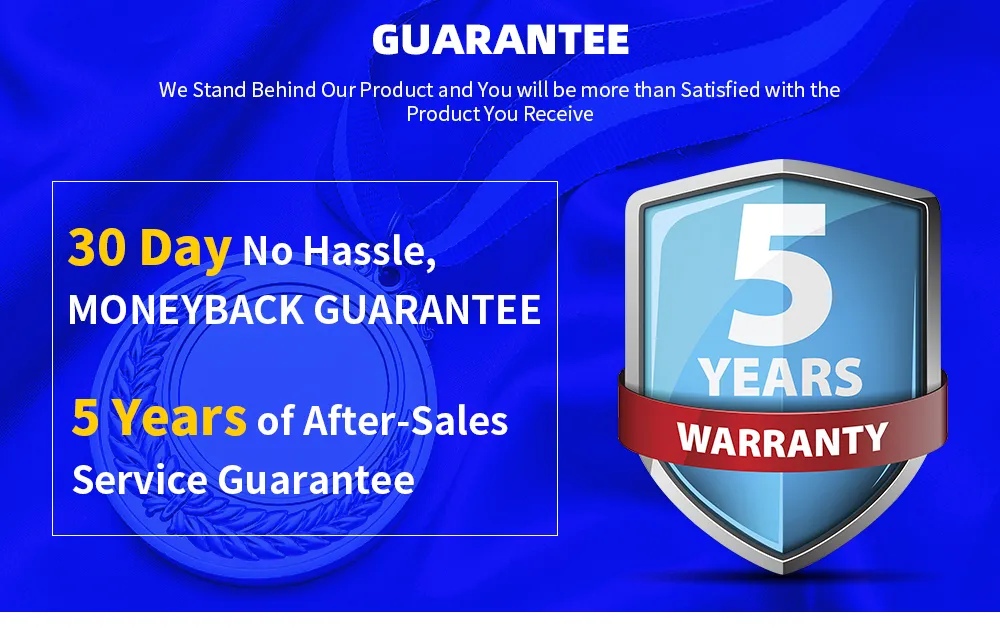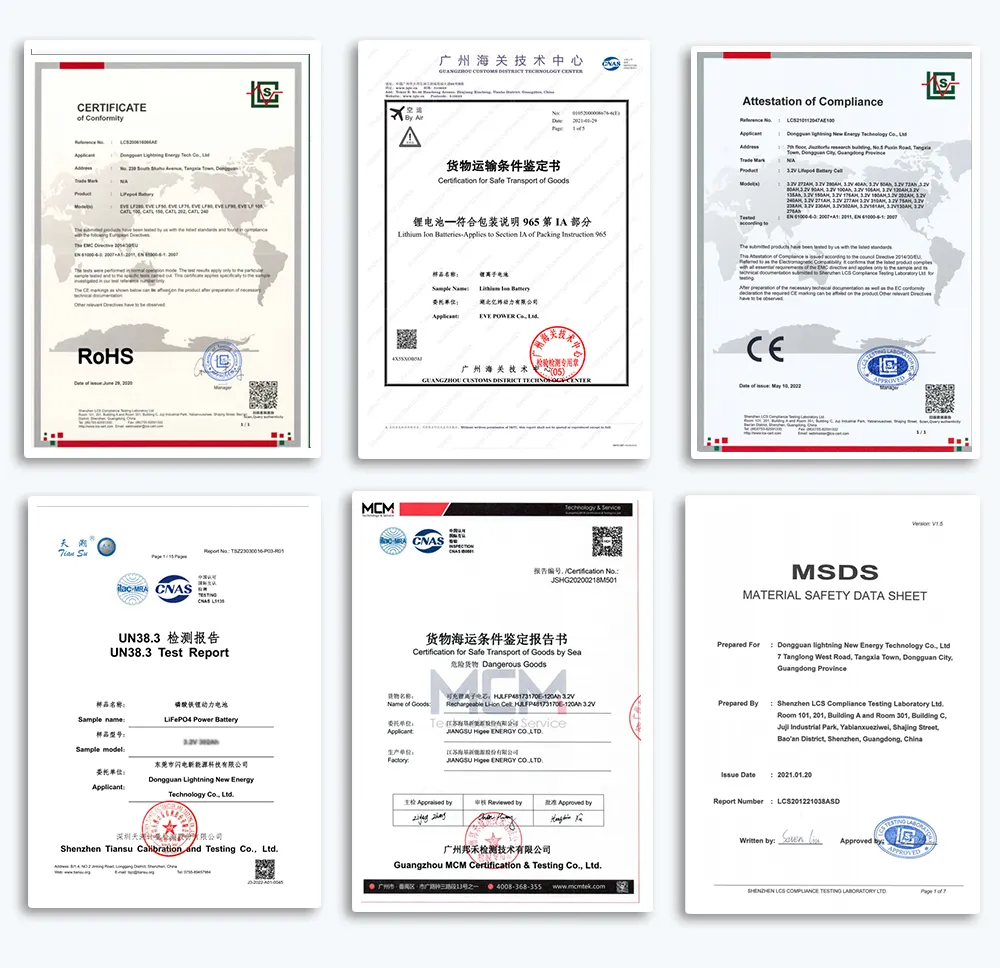 About Lightning