EVE 90Ah LiFePO4 Prismatic Battery Cells
$248.00
Note: The price for 4pcs. For pricing on larger quantities and optimizations, please contact us.
100% Brand New Grade EVE 90Ah LiFePO4 Battery Cells
1.SAFETY AND PEACE OF MIND: Brand new A-grade batteries are very consistent, all EVE 90Ah LiFePO4 Battery Cells are paired with measured voltage internal resistance before sending. Ensure that the internal resistance, voltage, and capacity of the car batteries are matched exactly before they leave the factory.
2.Safest and highest circulation: Safely sealed, with no leakage, and non-existent explosive power, LiFEPO4 battery cells are the safest battery with heat and chemical performance. Over 5000 times of circulation, the battery can provide 1C C discharge demand, immediately receive a discharge, and dissipate the battery.
3.Easy to assemble: One 90ah LiFePO4 battery cell will come with one set busbar, bolt, and washer for free.Easy to assemble, best choice for DIY enthusiasts.
4.Wide Application: EVE 90Ah LiFePO4 Battery Cells Great Choice For Engine starting batteries, Solar and wind power system,RVs, Off-grid living, Electric bicycle/motorcycle/scooter, Golf trolleys/carts, power tools, Electric Vehicle, Energy storage, Communications
Description
| | |
| --- | --- |
| Item | Performance |
| Brand | EVE |
| Battery Model | LF90-73103 |
| Cell Grade | Brand New Grade A Cell |
| Chemistry | Lithium Iron Phosphate (LiFePO4 or LFP) |
| Nominal Capacity | 90Ah |
| Nominal Voltage | 3.2V |
| Operational Voltage | 2.5V-3.65V |
| AC Impedance Resistance | ≤0.5mΩ |
| Weight | 1.92±0.03kg |
| Dimensions (mm) | 200.5*130.3*36.7±0.5mm |
| Terminal | M4 Screw Hole |
| Cycle Life | ≥3500 Cycles (Retention: ≥80%DOD) |
| Standard Charge and Discharge Charge/Discharge Current | 0.5C/0.5C |
| Standard Charge and Discharge Charge/Discharge Cut-off Voltage | 3.65V/2.5V |
| Continuous Charge/Discharge Current | 1C/1C |
| Pulse Charge/Discharge Current(30s) | 2C/2C |
| Recommended SOC Window | 10%~90% |
| Charging Temperature | 0℃~55℃ |
| Storage Temperature | -20℃~55℃ |
Product Feature
Intelligent factory design, high-performance consistency;
Square aluminum shell structure, and high-precision explosion-proof valve, high safety performance;
Low internal resistance, high discharge rate and stable discharge platform;
Long cycle life, the capacity retention ratio exceeds 80% after 3500 cycles at 1C/1C;
Green, the product conforms to GB, UN and ROHS directive.
(Note: the above data are from EVE's laboratory)
Product Application And Connection
Electric vehicle, electric bikes, scooters, boats, submarines, golf carts, communications, energy storage, Intelligent network, etc.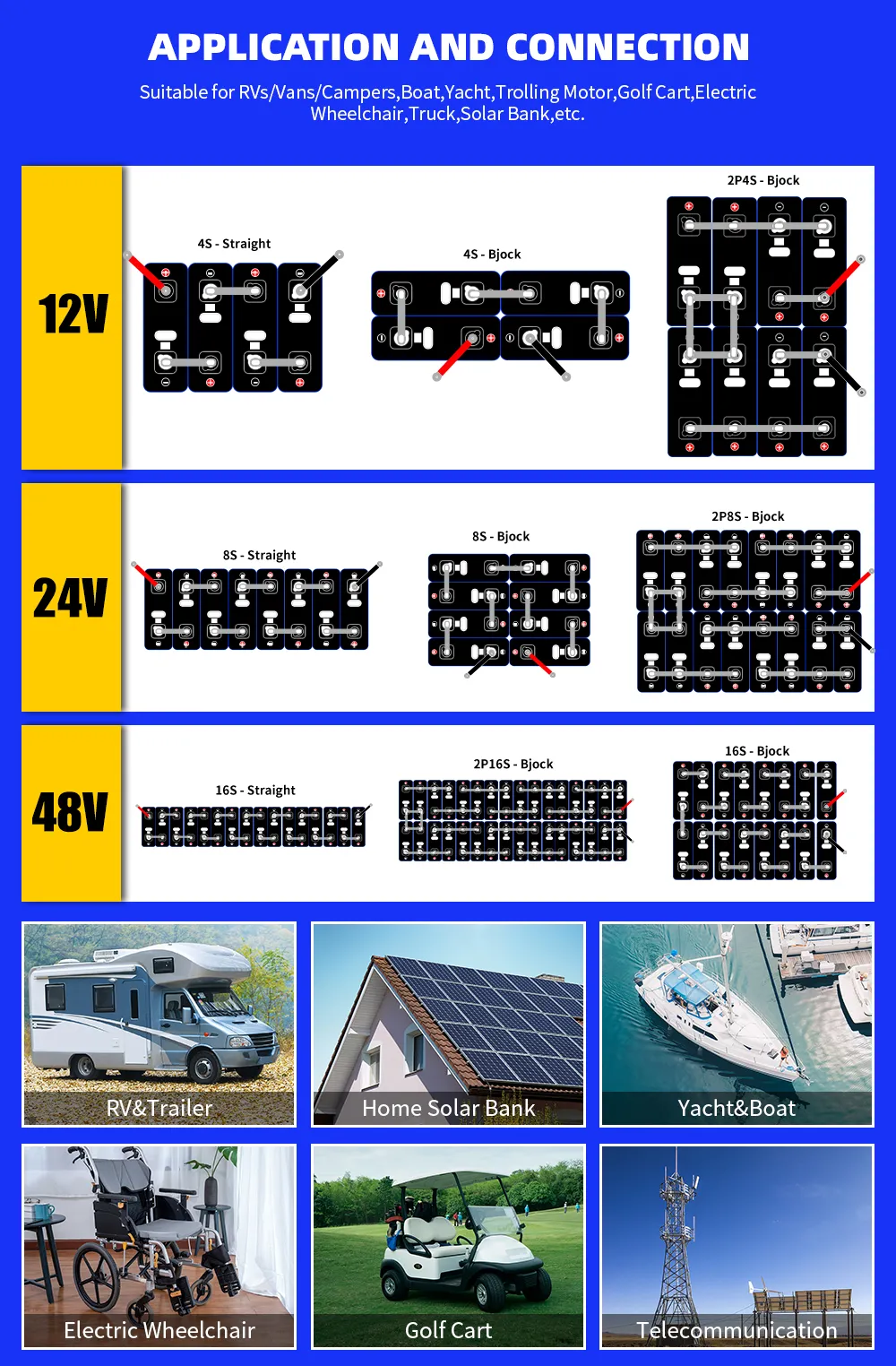 DIY Suggestion

What's In Your Box?

NOTE!
1. One Cell will come with one set busbar, bolt, and washer for free. (e.g. 4 Cells will come with 4 pcs(busbars + bolts + washers) .
2. Each cell shall be used under the strict monitor, control, and protection by the BMS.
3. Before the first use, always charge the cells to full voltage.
4. We will match (capacity, voltage, resistance) all cells before delivery.
5. The battery is suitable for DIY lovers with experience.
Advantages Of Lightning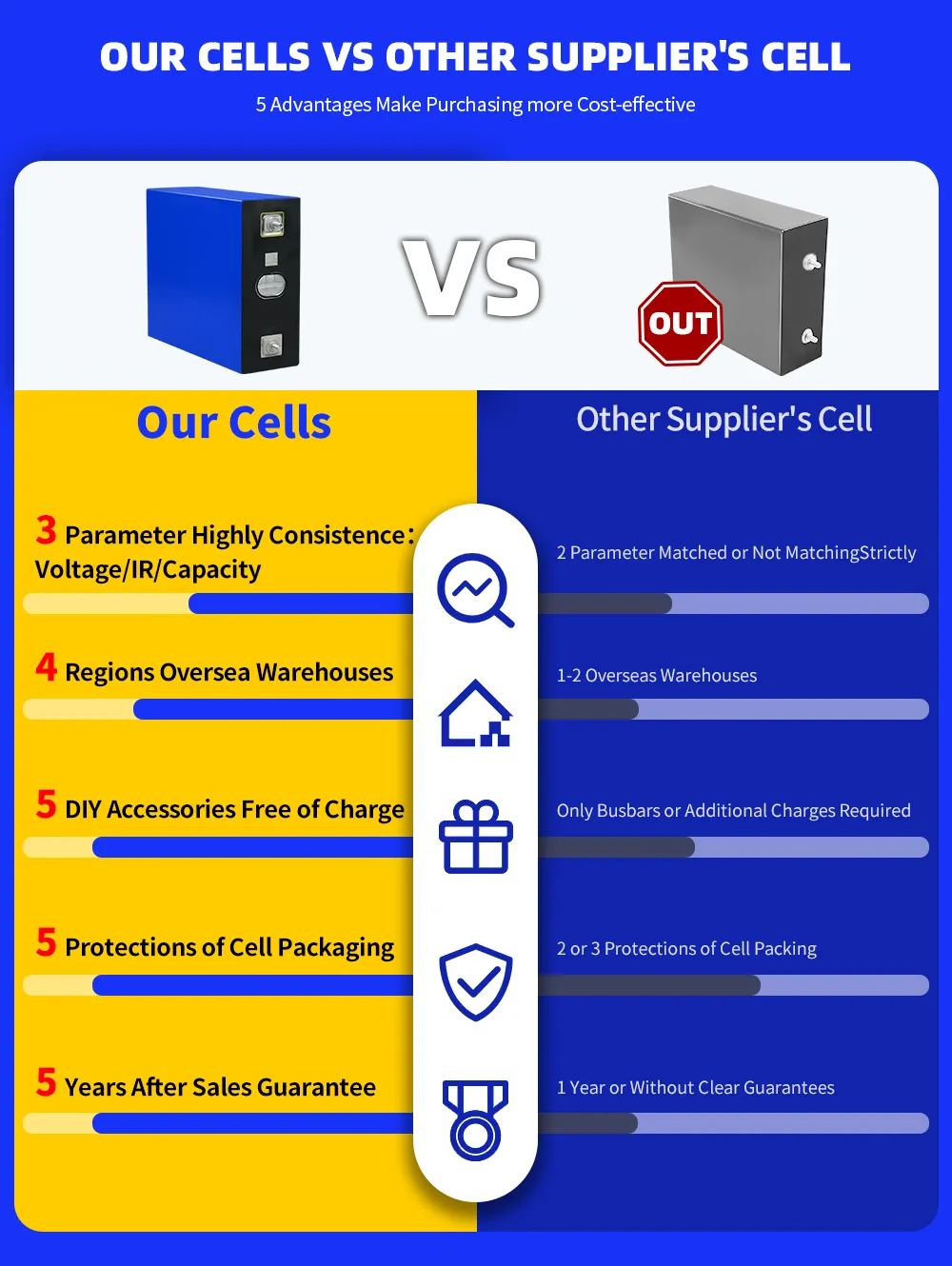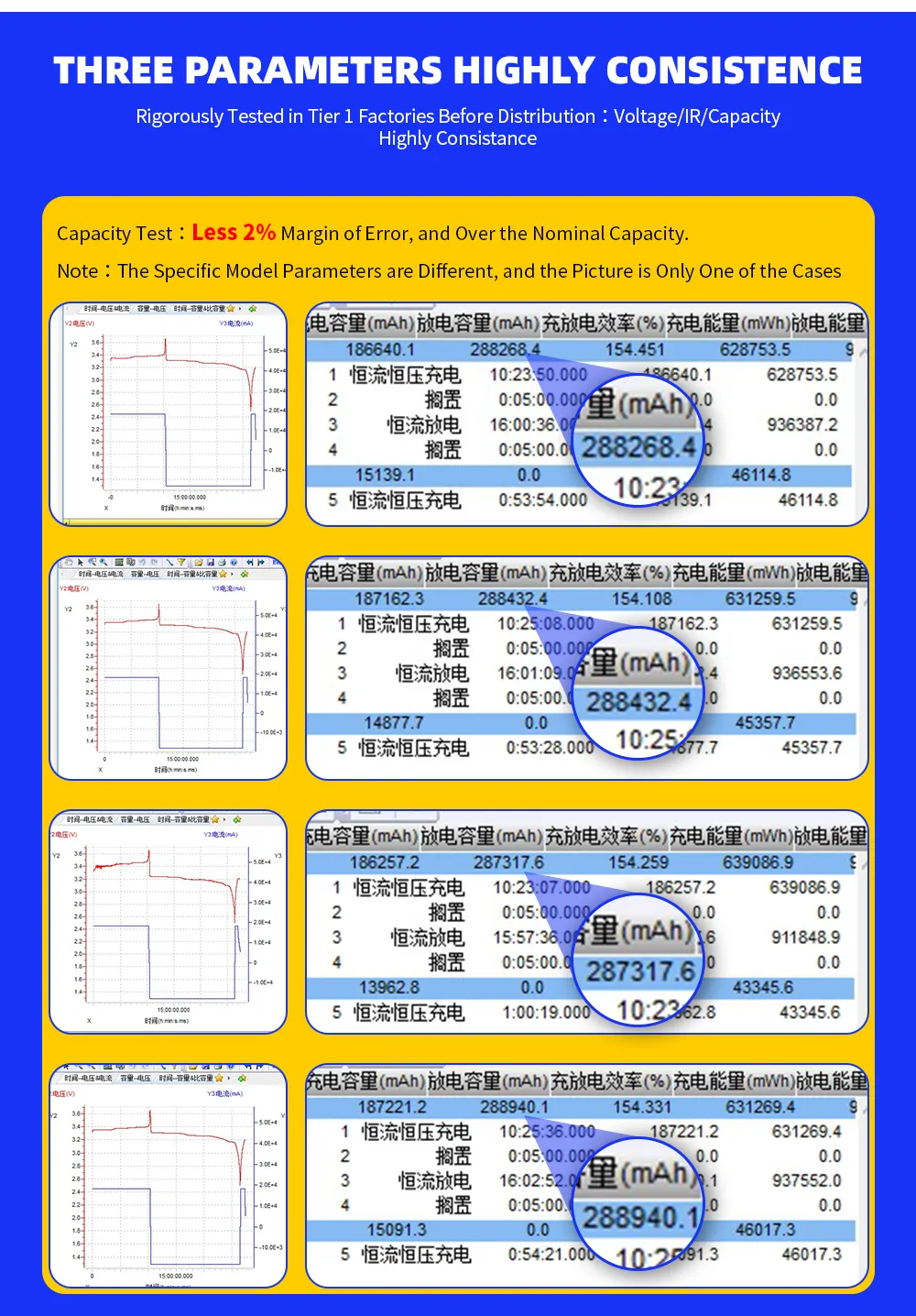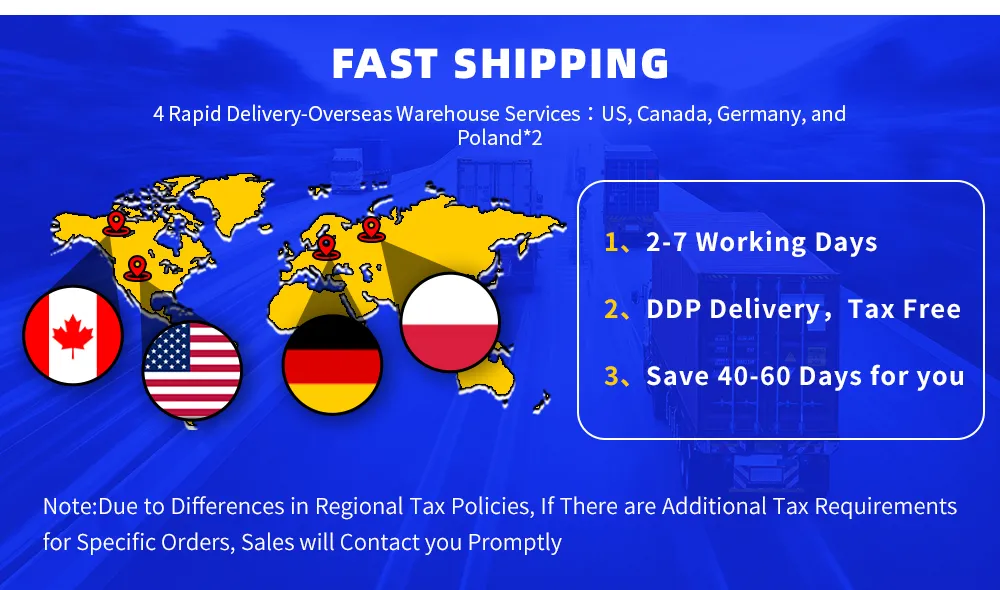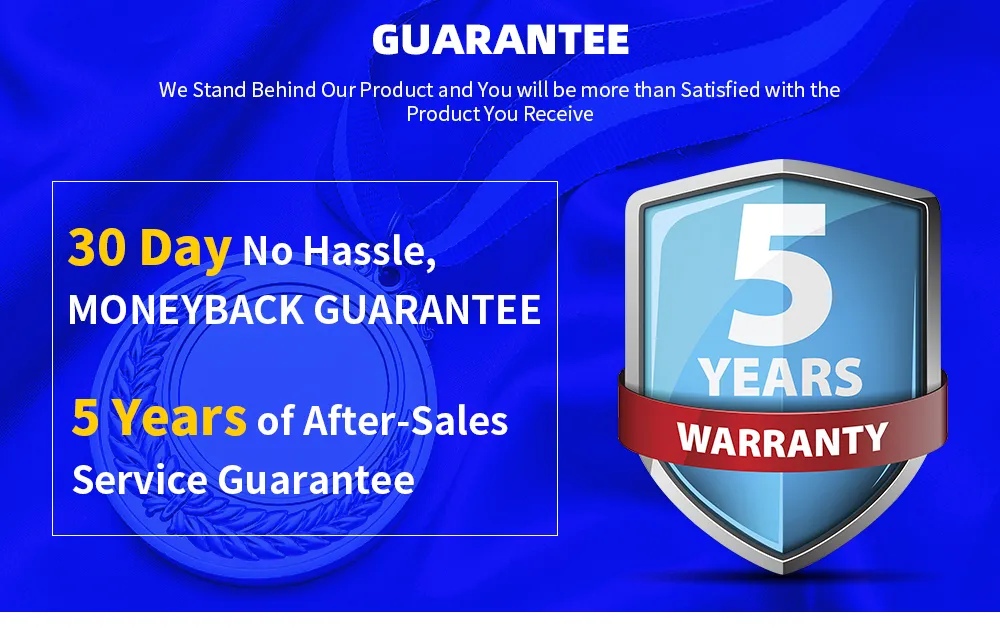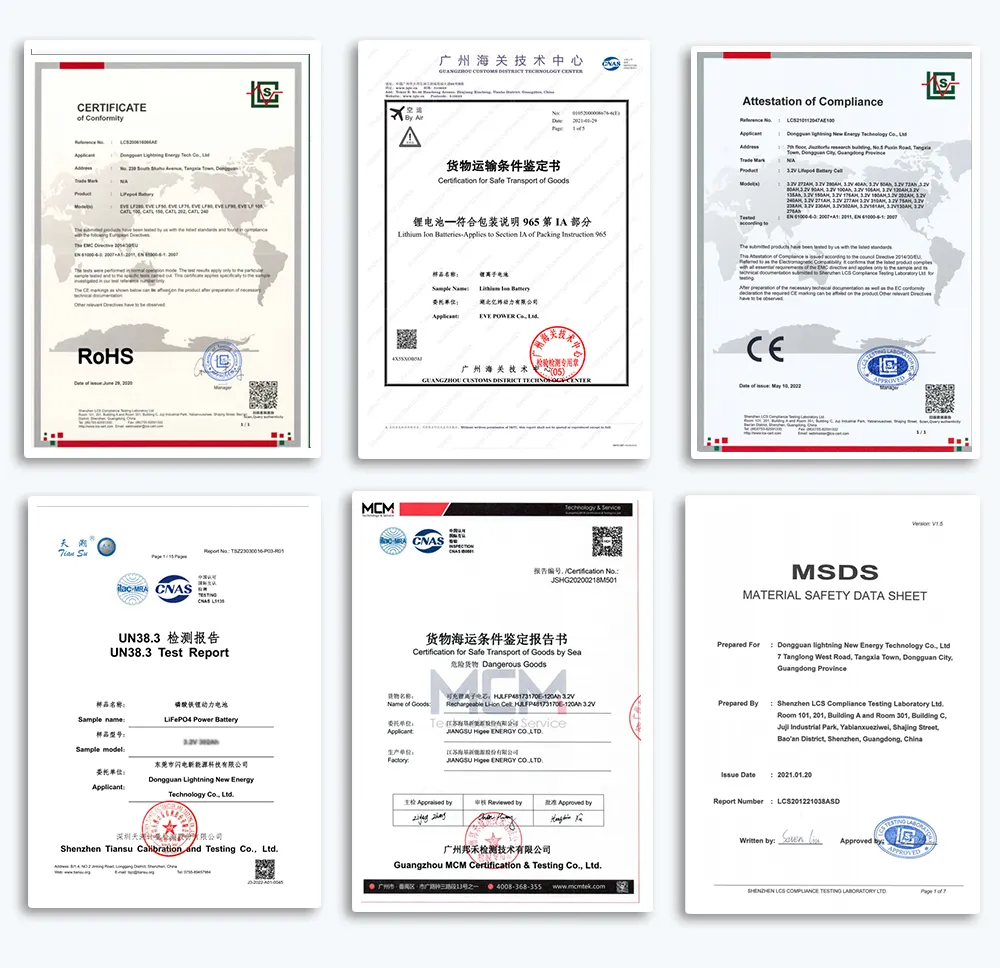 About Lightning